Centene Corporation, a FORTUNE® 50 company, is a diversified, multi-national healthcare enterprise that provides a portfolio of services to government sponsored and commercial healthcare programs, focusing on under-insured and uninsured individuals.
July 30, 2021 10:56 PM EDT
USD
Data Provided by Refinitiv. Minimum 15 minutes delayed.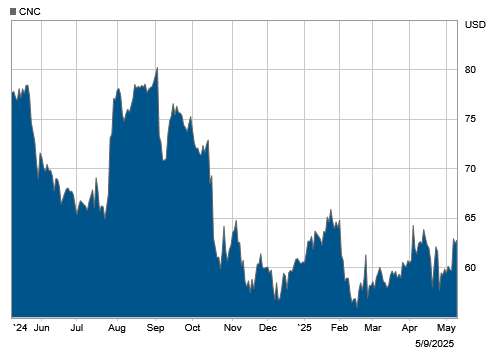 By The Numbers
Growth in QTD Total Revenues
Total Shareholder Return
(5 year CAGR)
Total Shareholder Return
(1 year)
Represents year-over-year growth as of 6/30/2021
Investor Resources
Request Investor Materials
Contact Investor Relations
Corporate Governance
Centene Corporation must and will operate under the highest possible standards.
Centene has developed and implemented a values-based program of business ethics and conduct.
The Company's commitment to strong corporate governance is supported by a code of conduct, a compliance program and a system of policies and procedures that foster a culture of accountability.
Corporate Governance
Centene Corporation